The Atlantis Paradise Island is a resort and waterpark located on Paradise Island, The Bahamas. Officially opened in 1998, the resort was created by South African hotel magnate Sol Kerzner and Kerzner International Limited. Paradise Island first opened its Coral and Beach Towers as the Trump Plaza, then changed its name to Atlantis when the Royal Towers were built. The Coral and Beach Towers were later refurbished to match the theme of the Royal Towers. On 28 March 2007 a 600-suite luxury hotel named The Cove Atlantis opened on Paradise Island. Another tower, the 497-room Reef Atlantis, opened 19 December 2007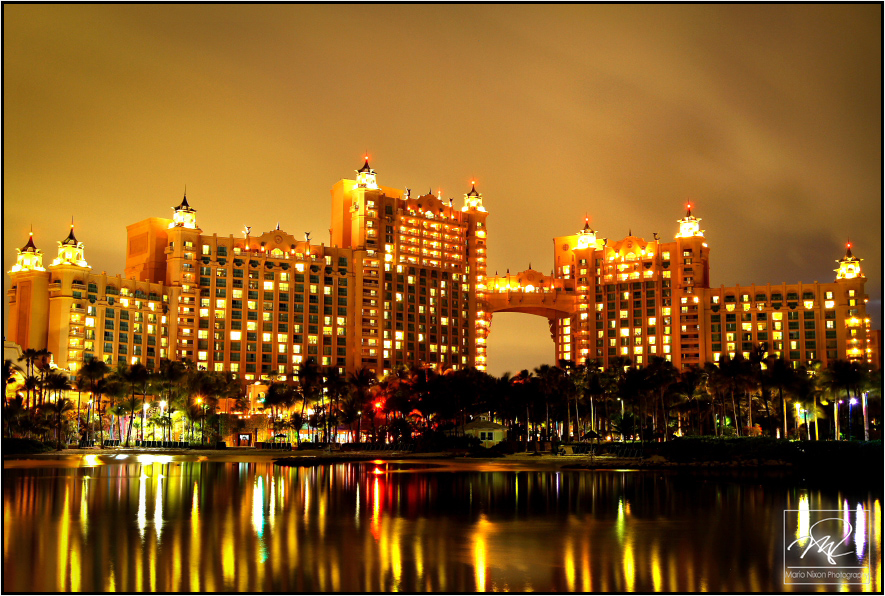 Accommodation at the resort includes:
The Beach Tower, formerly known as the Paradise Beach Hotel, is the oldest building at Atlantis.
The Coral Towers, formerly known as the Britannia Beach Hotel.
The Royal Towers contains the "Bridge Suite", ranked in 2003 by Forbes as the most expensive hotel room in the world. With the recent hotels built over the last couple of years, Atlantis is included in one of the most expensive hotels in the world.
Harborside Resort consists of 392 villas and features a harbor-front restaurant, pool area including a children's pool with water fountains, a fitness facility, a sundry store, and all-day shuttle service to Atlantis.
The Reef, the newest building at Atlantis, consists of condominium hotel residences
The Cove Atlantis is a 600-suite tower that opened in 2007.
Aquaventure
Opened in 2007, the 141-acre (0.57 km2), 200 million gallon (757 million liter) Aquaventure combines slides, lazy rivers, and rapids into one large waterscape. The centerpiece of the attraction is the Power Tower which contains four waterslides. The slides include The Abyss, The Drop, The Falls and The Surge. Aquaventure also includes one of the Atlantis' most popular attractions, The Current.
The Current
The Current is a mile long, three million gallon water ride complete with waves and artificial tidal surges.
Mayan temple slides
At the Royal Towers is the Mayan Temple entertainment attraction consisting of 4 major slides: Leap of Faith, the Challenger Slides, the Serpent Slide, and the Jungle Slide.
The Dig
The Dig is a series of aquariums located beneath the lobby of the Royal Towers and is the world's largest open air marine habitat. Hundreds of different aquatic species can be spotted in the Dig's various tanks such as angelfish, sharks, manta rays, one of which being larger than ten feet, and various types of jellyfish. The goal of The Dig is to provide guests with a taste of life in the legendary destroyed city of Atlantis. If one observes the bottom of the floors in the different aquariums, wreckage and debris will be scattered about representing the "Lost City of Atlantis."
A Predator Lagoon is full of sawfishes, barracudas and stingrays. A 100-foot (30 m) clear acrylic tunnel runs underwater, allowing visitors unobstructed views of the marine environment.