THE PALACE OF THE LOST CITY - SUN CITY RESORT
This magnificent palace, so legend tells, was built for a king by an ancient civilization from the north of Africa, who made this idyllic valley their home until it was destroyed by an earthquake. Now restored to its former glory, this unique establishment specializes in extending a royal welcome to the discerning guests who come to call. The Palace offers opulent accommodation, fabulous architecture & decor details, the finest cuisine and incomparable sporting and leisure facilities.
The Palace wants for nothing - it has no equal. Faux elephant tusks, sculptured bronze and crystal, richly woven colors of Africa, mystery-scented air and jungle cascade and fuse into an atmosphere fit for a king. With frescoed ceilings above and ancient tiles below, you are left to stand in awe at the sheer scale of this masterpiece. The craftsmen who fashioned this breathtaking Palace used equal quantities of art and nature in soaring columns and intricate mosaic, capturing wild elegance and savage beauty in bronze and stone, culminating in a life-size sculpture of the mighty elephant Shawu, who takes pride of place in the Shawu Court.
The Palace of the Lost City at Sun City is one of the most enticing travellers' destinations in the world, a tribute to man's imagination and revered for its art and architecture. Fabled to be the royal residence of an ancient king, it is truly one of the 'Worlds Leading Hotels". The Palace lavishes its guests with 5-star service, and is luxurious in every facet of its fabulous architecture and décor.
All four suites are breathtakingly opulent. From the distinctive grandeur of the African Suite to the unforgettable King Suite, resplendent in its maple paneling, delicately frescoed ceilings and stunning panorama over the Lost City. Each exquisite suite revels in the magic of this remarkable place. Each of the 338 luxurious rooms and suites offer royal hospitality with wonderful views over water or jungle. Intricately hand-carved furnishings reflect the flora and fauna of Africa and an attention to detail which flourishes under a personal touch.
Surrounding the hotel is a 25 hectare botanical jungle. The jungle is threaded with meandering paths, cascades, lakes and pools and a variety of water-borne adventure rides.
The Palace has 338 rooms inclusive of four deluxe suites.
Standard Room Features & Amenities
• Armoires & writing desks
• Mini Bar
• Computerised safe
• Colour satellite television with remote control
• Radio and wake up facility on TV
• Guestlink, pay TV, internet facility
• Hair dryers
• Telephones are provided in bathrooms, at bedside tables or on each writing desk
• Biz-Comm centre - phone, fax, e-mail, copy, print and store messages, on a private number
• Air-conditioning units
• 24-hour Room Service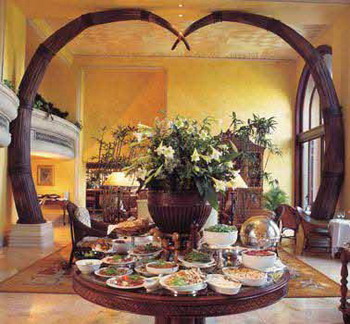 credit : http://www.eyesonafrica.net/south-african-safari/sun-city-palace.htm