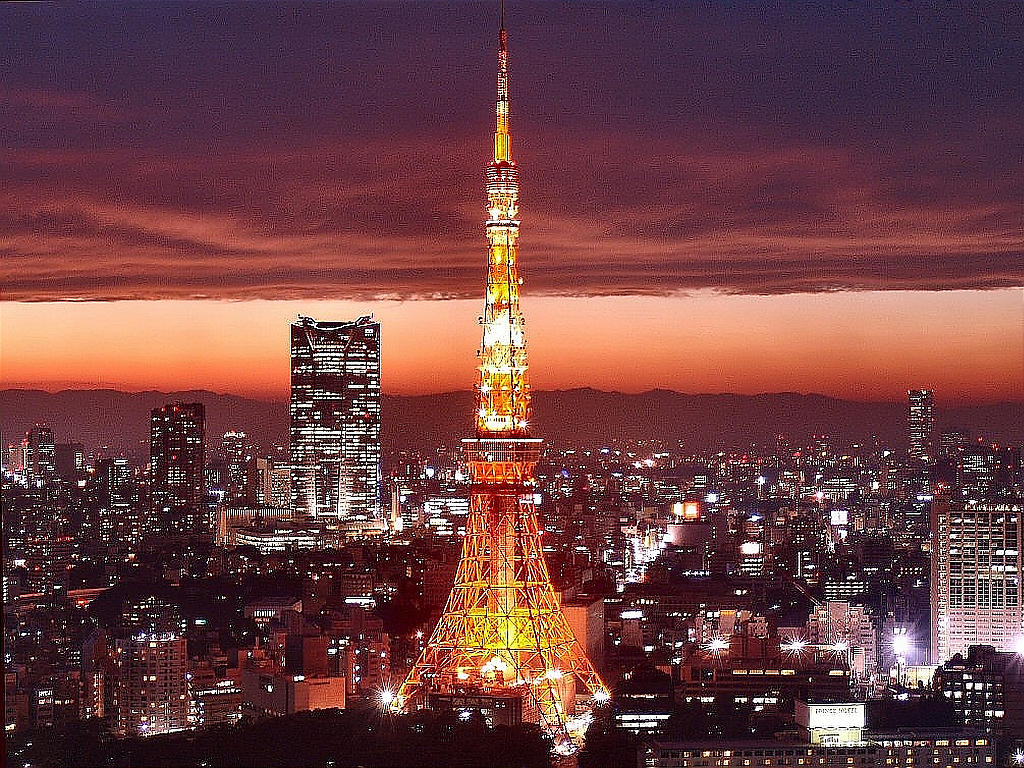 Tokyo Tower is a 333 meters high steel structure, similar in style to the Eiffel Tower, situated in the Minato area of Tokyo right next to the Shiba-Koen park and is well worth a visit as there are amazing views from the two observation decks and plenty of attractions underneath in 'Foot Town'.
From the ground it looks quite impressive and in daylight it is distinctive by its red and white paint job; by night the tower looks very pretty when it's all lit up. At one time it must have been one of the tallest structures around however these days it's dwarfed by Tokyo's many skyscrapers.
I visited Tokyo Tower with friends on a very wet evening in late May 2009. As with most Japanese tourist attractions, there were plenty of friendly staff in smart uniforms waiting in the entrance hall to guide you and help you buy your ticket. Most of the staff seemed to speak some English. We bought tickets for both the Main Observatory, at 150 meters, and the Special Observatory, located at 250 meters. According to their current prices, that's a total of Y1420 (about £9).
After buying our tickets, we went by lift to the Main Observatory. This observation deck is laid out over two floors. Here, we spent some time having a drink and listening to live music in the lounge-bar area known as Club 333. The bar was quite busy but we still managed to find a table and we found the combination of low lighting, panoramic views and live jazz very pleasant and relaxing.
After that, we had a walk around the upper level of the Main Observatory which, as you might expect has large windows all the way around and extensive views across Tokyo. Information about the skyline and various landmarks was displayed in both Japanese and English. Even with the rain coming down, there was plenty to look at and it was lovely to see all the lights coming on as the sky darkened.
When we had finished in the Main Observatory, we proceeded to the upper Special Observatory via the lift. Being much higher than the Main Observatory, the Special Observatory is smaller and the views are much more expansive, giving you a real idea of the layout of the city. Of course, in the dark, it was difficult to distinguish particular districts however one area that did stand out was Shibuya which appeared as this little colourful, flashing island among the yellow and white lights of the surrounding streets.
As we were walking around the upper level, we were sure that we could feel the tower moving in the wind! We pretended to be scared for a little while but I'm sure it's normal for this kind of structure (maybe it was a bit worse than usual because of the bad weather) but in any case we soon forgot all about it and got on with enjoying the fine views.
When we had finished here, we went back down in the lift to the exit floor and had a quick look around one of the gift shops. Actually, before that we visited the toilets which were, as is normal in Tokyo, western style and clean.
The gift shop was full of the usual kind of souvenir rubbish which can be fun if you want something to remember your trip. I'm not normally susceptible to this kind of thing but, seeing as Japanese tat is my favourite kind of tat, I bought a pink Tokyo Tower dangler for my mobile phone. There are a lot of other strange attractions around the base of the Tower in 'Foot Town'. Maybe kids would enjoy waxworks and bendy mirrors but, since each of these extra attractions required a separate entrance fee and we were getting hungry for dinner, we didn't bother.
All in all, we had great fun at Tokyo Tower and would recommend it as a tourist attraction. How much longer you will be able to visit the tower, however, is a little uncertain. The tower is currently used to broadcast analogue TV but now a new, taller broadcasting tower is being built to accommodate Japan's switch to digital television in 2011 and I wonder if they will keep the original tower as an attraction and piece of heritage or simply pull it down and redevelop the land.
Read more: http://www.articlesbase.com/destinations-articles/tokyo-tower-see-it-while-you-still-can-1386481.html#ixzz1WmjaYbca
Under Creative Commons License: Attribution No Derivatives