Any tour to Italy in search of art and culture must take in the unforgettable and ancient ruins of Pompeii, only a few hours from Italy's capital city Rome. Follow in the footsteps of the British gentility on Grand Tour with a trip to the Gulf of Naples where you can find a culture that was captured forever in the towns of Pompeii and Herculaneum by the eruption of Mount Vesuvius in AD79.
Pompeii, once a popular tourist destination for the ancient Romans, is now one of the most popular tourist sites in Italy and a UNESCO World Heritage Site. When Mount Vesuvius erupted in AD79, devastating the towns of Pompeii and Herculaneum, these ancient cities were buried, preserved and lost under thick layers of ash. This natural event that devastated the towns of Pompeii and Herculaneum now offer tourists the opportunity to see how people lived, and died, two thousand years ago.
Pompeii is now an outdoor museum and an excavation site that provides an exciting archaeological journey into Roman life in the 1st century. The Roman settlement, once lost under almost 60 feet of ash and pumice, was rediscovered in 1748. Since then numerous excavations have unearthed many rare discoveries including well-preserved frescoes showing what everyday life was like for its doomed inhabitants.
Even if you're not interested in history the Pompeii site is a fascinating find. Providing a time capsule of Roman life and architecture, the excavated town includes cobbles streets, grand houses, villas, baths and a brothel. The baths contain stuccoed vaults with preserved images of nymphs and cupids while the Forum shows where the civic, commercial, political and religious heart of the town was located.
From the ruling class down to slaves, no one in the city was spared after Vesuvius erupted. As ash and soot covered the city, people and animals were frozen in time. Giuseppe Fiorelli, the director of one of Pompeii's many excavations instructed workers to pour liquid plaster into cavities left in the ashes by decomposed bodies. These plaster casts show incredible detail of the people of Pompeii in their last moments.
If you wish to visit Pompeii, then it often proves a good idea to take one of the many tours offered once you arrive from your flights to Rome. From Rome's Leonardo Da Vinci (Fiumicino) airport, take either a taxi or the train to Rome's Termini Station and then the Eurostar to Naples.
The Circumvesuviana is one of Naples' suburban rail services which runs around the base of Mount Vesuvius and connects its nearby cities. The ancient site of Pompeii is just 100 metres from the Pompei Scavi train which can be found half-way along the Circumvesuviana line.
The information contained within this article is the opinion of the author and is intended purely for information and interest purposes only. It should not be used to make any decisions or take any actions. Any links are included for information purposes only.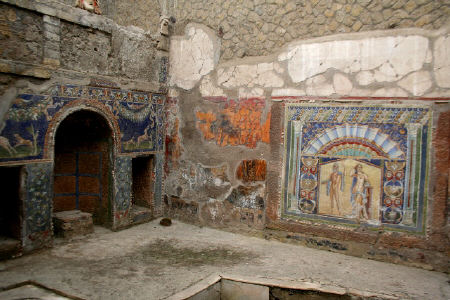 Read more: http://www.articlesbase.com/destinations-articles/visit-pompeii-during-trips-to-rome-837759.html#ixzz1WIoQjMxx
Under Creative Commons License: Attribution No Derivatives